How to Bypass Geo-restrictions to Watch Barcelona vs Juventus Champions League Final LIVE
7 June 2015
Today's Champions League Final 2015 between Barcelona and Juventus has a scheduled start time of 2:45 p.m. ET, 8:45 p.m. local. Juventus faces Barcelona in Berlin, the first final in 17 years that puts the Italian and Spanish league champions against each other. Both teams are going for a treble today.
Juventus is one of the defensive teams in the Champions League this season, allowing 0.58 goals per match only. Barcelona has been outstanding during the Champions League season. It is Barcelona's fourth final in 10 years and they have had the best passing statistics in this competition in every season since 2007-08.
The Champions League is available to stream on many free live stream websites, including ZDF in Germany, TVE La Prmiera in Spain, FOX Sports Go in the US, Sportsnet World in Canada, Sky Sport 1 in Italy, Sky Sports 1 and ITV 1 in the UK, TEN Sports in India and other.
Why do you need a VPN to watch the Champions League Final 2015 between Barcelona and Juventus?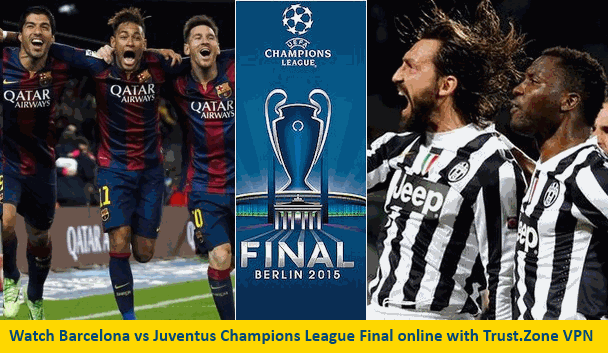 Unfortunately, many online stream websites put geo-restrictions to access content for its customers. For instance, you are not allowed to watch Champions League Final 2015 final online with ITV if you are located outside of the United Kingdom. You can't watch the match with Sky Sport 1 if you are out of the Italy. All popular online streaming services block customers based on the location of their IP addresses.
Trust.Zone VPN may help if you're in a country where content is restricted. Trust.Zone VPN service hides your real IP address and bypasses online stream websites' geo-restrictions. Trust.Zone VPN replaces your IP address with IP addresses of Trust.Zone VPN servers located in many countries where Barcelona vs Juventus final is allowed to watch.
So, if you are out of the UK, you can simply connect to a Trust.Zone VPN server in the UK and watch ITV. Connect to a VPN server in country you need to watch Barcelona vs Juventus Champions League Final LIVE