Free Internet Shut Down in Egypt
5 January 2016
Free Internet service for over 3 million Egyptians shut down. The service sponsored by Facebook that offers free Internet access was suspended in Egypt after a permit required from the government was not renewed, Reuters says.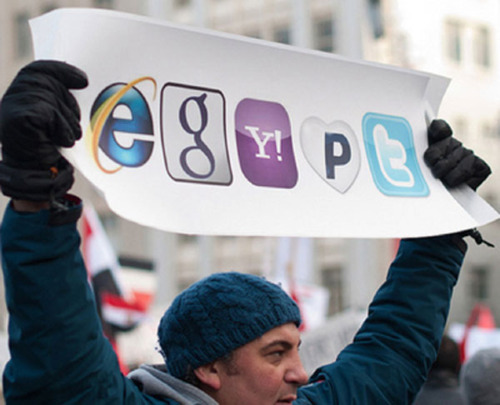 A Facebook spokesperson confirmed the shut down:    
"We're disappointed that Free Basics will no longer available in Egypt as of January 1, 2016. Already more than 3 million Egyptians use Free Basics and through Free Basics more than 1 million people who were previously unconnected are now using the internet because of these efforts. We are committed to Free Basics, and we're going to keep working to serve our community to provide access to connectivity and valuable services. We hope to resolve this situation soon."
Free Basics gives access to Facebook and other web services without data charges. It has run into trouble in India, where activists allege the program violates network neutrality, the principle that all Internet sites should be equally accessible.
It was not immediately clear why the program was halted. Neither Etisalat nor Egyptian officials could immediately be reached for comment. The program was recently highlighted at an entrepreneurship fair in Cairo.
Facebook and other social media sites are extremely popular in Egypt, and were used to organize protests during the 2011 uprising that toppled longtime autocrat Hosni Mubarak.
While the Internet in Egypt was not directly censored under the regime of President Hosni Mubarak, his regime kept watch on the most critical bloggers and regularly arrested them. The success of the 2011 Egyptian revolution offers a chance to establish greater freedom of expression in Egypt, especially online. Reflecting these dramatic changes and opportunities in Egypt, in March 2011 Reporters Without Borders moved Egypt from its "Internet Enemies" list to its countries "under surveillance" list.
The most tech-savvy internet users prefer using VPN to access Internet in Egypt in any time. With a VPN internet users in Egypt are available to bypass censorship and access social networks like Facebook and Twitter.
The best way to bypass the Egyptian Government's restrictions is a
Trust.Zone
VPN service.
Trust.Zone
is completely anonymous VPN service which hides users' online identity. It encrypts the connection and replaces client's IP address with IP address located outside of Indonesia.  With a VPN internet users are able to unblock any website in Egypt.
Egyptians can use
Trust.Zone
VPN totally for free.
Trust.Zone
VPN provides users with 5 days VPN usage free of charge. Paid subscription is also available and it's $2.99 only. With a paid VPN subscription, everyone in Egypt is able to connect to VPN from 3 devices at same the time.